#savingronsplace
Early days
Ron's sister Pat and husband Henry visited Ron's flat soon after he died and took on the responsibility of dealing with his affairs. The sheer quantity of stuff was overwhelming and the prospect of clearing the flat of its floor- to- ceiling contents was daunting. The landlord kindly permitted a rent-free period to empty the flat and a family friend helped with the initial clearance.
Ron's niece Jan and her partner Chris, the artists who run The Caravan Gallery, made brief visits as soon as they could in between work assignments and were utterly captivated by what they saw. The huge concrete fireplace in the shape of a roaring lion's head made an indelible impression. They hastily rescued a few mementos including a model of a Roman soldier, paint palette, paintbrushes, and books before heading to their next destination but could not stop thinking about the chaotic yet utterly mesmerising world they had stepped into.
Sleepless nights and dreams of lions
Jan and Chris recognised that Ron's home was unique and the possibility of its being gutted kept them awake at night. They felt compelled to take on the role of custodians so contacted the landlord and sought the advice of trusted friends and colleagues with arts and heritage expertise. Meetings and site visits ensued at the end of 2019 and a rental agreement was signed in early 2020. The landlord was finally able to make long overdue repairs to rotten floors and ceilings, and the enormous concrete Minotaur fireplace – previously hidden by mountains of stuff – was given structural support from the cellar below.
#SavingRonsPlace Crowdfunder campaign, media attention and filming
A successful crowdfunding campaign launched to coincide with an exclusive story in the Liverpool Echo, subsequently syndicated and followed by BBC national news coverage, generated sufficient funds to cover short term costs and brought Ron's Place to the attention of a fascinated public. Liverpool-based filmmaker Martin Wallace, who produced and directed Channel4's 'Journeys Into The Outside With Jarvis Cocker', made immediate contact and began working on a feature-length documentary about Ron Gittins. Two events exploring the significance of Ron's work in the context of 'Outsider Art' took place at Leaf in Liverpool and the Williamson Art Gallery in Birkenhead where Martin presented 'Ron's Place: The Bigger Picture'.
Skips, rubber gloves, sifting through treasure, documentation, and lockdown
The process of removing rubbish, sorting through the contents of Ron's flat and cataloguing his possessions has been ongoing – lockdowns permitting – with invaluable assistance from family, friends, and volunteers. Unfortunately, the Covid-19 situation has made it impossible to receive visitors apart from a small number of arts and heritage specialists who have kindly shared their expertise regarding conservation and so called 'Outsider Art' and visionary environments. Jan and Chris have been documenting the entire process and Martin has been filming interviews with people who knew Ron.
Claire Jones + Chris tackling the Minotaur Room
#savingronsplace
Moving forward
We have formed an Advisory Board and are working together on plans to secure Ron's legacy. Read more about our vision and our guiding principles here.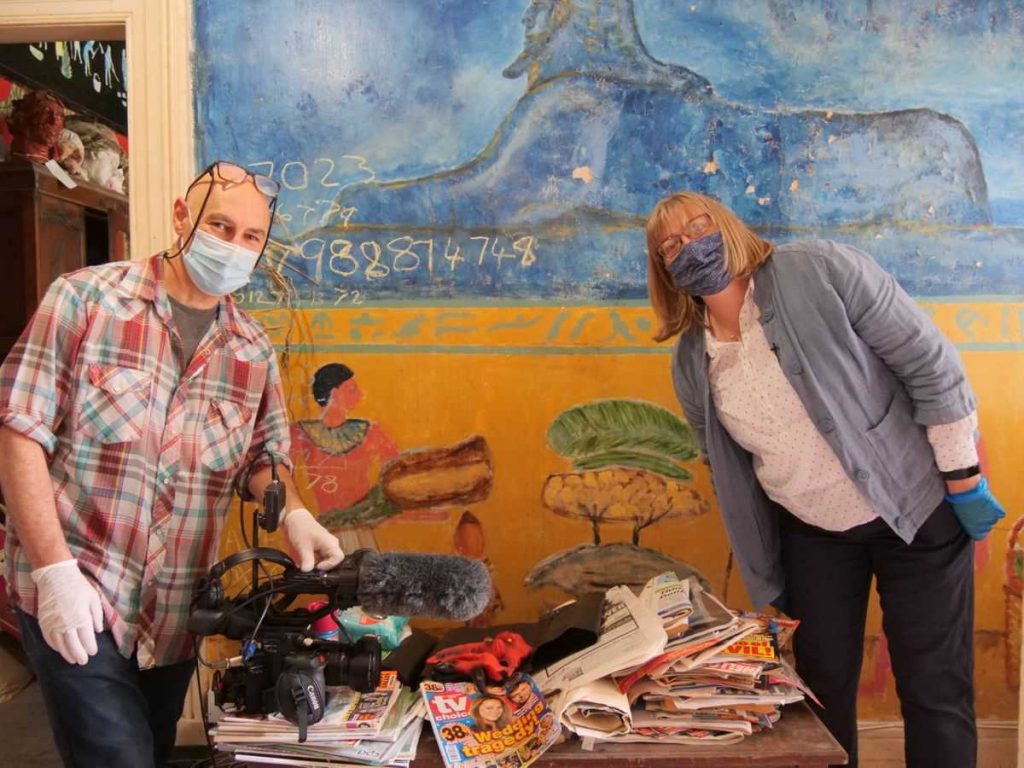 Things, things, and more things
Ron was a great hoarder and saved anything that inspired him or could be repurposed in the creation of his art. The inventory of potentially useful items includes books on the ancient world, videos, toy guns, wigs, empty instant tea jars, carrier bags full of carrier bags, bags of sand and cement and the pram he used for transporting them, sketches and paintings, papier mache heads,
#SAVINGRONSPLACE
Can you help to save Ron's Place?
There is still a great deal to do to save Ron's Place, and we can't do it on our own. There are already lots of ways you can help, and we will be adding more in the future